With phenomenal new accuracy and tower costs, the Global Positioning System is becoming the ultimate tracking and seeking tool.
You're driving in the dead of night through Nebraska corn fields when you see bright lights in the distance. As you get closer, you realize the lights are in the middle of a field far off the road. For a moment, you think you're going to have a close encounter with a UFO. Then you realize you've been watching too much TV. It's a farmer driving a tractor with a big sprayer on the back.
A farmer? The thought hits you as you speed by. He's really extending his work day! But even with headlights, how can this farmer possibly navigate through all the bumps and pits in his field? At least you have a road to steer by. That farmer must be crazy!
Not really. Like a sailor of old who used the stars to navigate, the farmer is using a network of 24 satellites orbiting the globe to precisely guide him around his field. Known as the Global Positioning System, or GPS, this satellite navigation network is quickly becoming a familiar tool for everybody from farmers to weekend hikers to scientific researchers. Driving this boom are a number of factors: the declining cost of manufacturing GPS receivers, the easing of government restrictions, and new ideas – like precision farming – about how to effectively use GPS technology.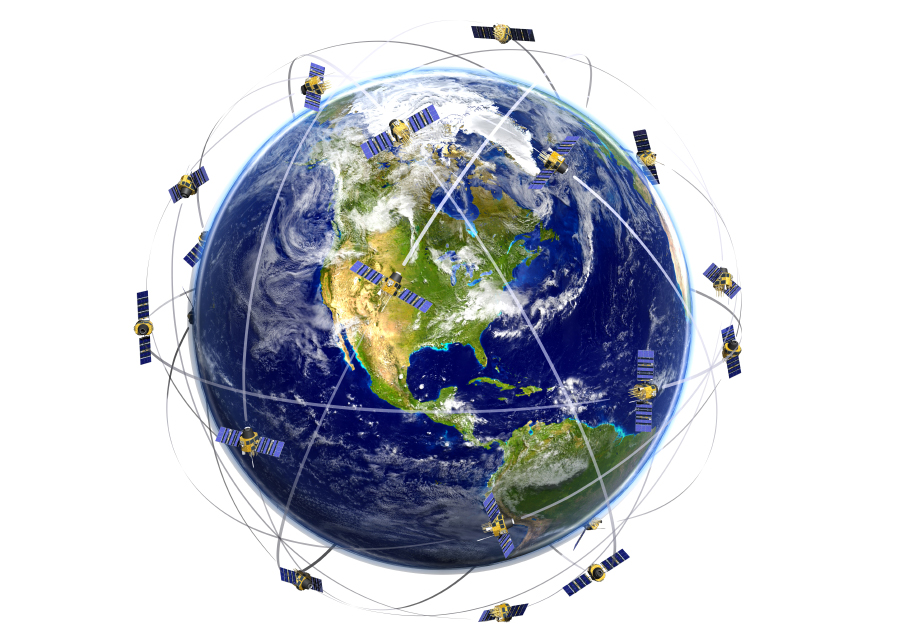 GPS is expected to blossom from a business with revenues of about $1.5 billion in 1996 to a massive industry worth as much as $8 billion annually by the year 2000, say industry experts. This means that four years from now, you won't be able to go very far without experiencing or witnessing GPS in action.
So what is GPS? Like the Internet, GPS is an information utility. Put into orbit and maintained by the U.S. Department of Defense, GPS is a constellation of 24 Navstar satellites that circle the Earth every 12 hours and, like a bunch of gossips, continuously emit radio signals giving their position and the time of day. On the ground, a GPS receiver measures how long it takes for the signal from at least three satellites, but preferably four, to arrive deriving longitude, latitude, and altitude from these calculations. You'll also get the correct time.
GPS accuracy is good enough to determine your position within 350 feet. While this is phenomenal, accuracy would be within 100 feet if it wasn't for "selective availability," an error deliberately introduced by the U.S. military to give its own GPS receivers an edge on the battlefield. Selective availability also helps prevent enemies from "spoofing" a soldier's GPS receiver – sending confusing electronic signals that can make the receiver display the wrong location.
The U.S. government has decided to phase out selective availability over the next few years, largely to alleviate foreign fears that the United States could monopolize GPS if it chose. The military, meanwhile, will use a stronger, harder-to-jam GPS signal, called the Precision Code, to drown out competing GPS signals on the battlefield, and to foil GPS-guided missiles, which are expected to be developed. GPS isn't considered to be a serious military threat to the United States, but it does pose a problem for allies who lack the U.S. military's defensive capabilities.
While the demise of selective availability has been hyped in many press reports as a breakthrough, the actual impact has been overstated. It's true that without selective availability, GPS accuracy will be much improved, but the GPS receivers available to Joe Citizen still won't be able to tell you exactly where you are. For instance, rent a car from Hertz with a Rockwell International GPS navigation system and you'll only get resolutions down to one-eighth of a mile.
Some people will benefit from the improved accuracy that will result from the disappearance of selective availability. It may be a little easier for a fisherman to find his favorite spot on a lake, for example. But for the vast majority of commercial users, even an unadulterated version of GPS won't provide the accuracy needed to implement new ideas. To achieve greater accuracy, many users already couple GPS with ground-based radio beacons to create a system called Differential GPS, or DGPS. On the coastline, these beacons are maintained by the U.S. Coast Guard for boats and ships. Inland, DGPS signals can be transmitted on an FM sub-band by a local radio station. Regardless of their source, the ground-based beacons provide extra reference points that dramatically improve the system's positioning ability: Astonishing accuracy down to one centimeter can be achieved. With this kind of precision, builders, for example, can use DGPS to make sure a tower is perfectly vertical.
It's with DGPS that the most innovative uses of the technology are expected. For example, DGPS makes it possible to do "precision farming": applying chemicals and fertilizers to specific areas that proved troublesome in past years, rather than blanketing an entire field. With DGPS also providing the ability to link soil tests to specific locations over time, farmers can increase yields and reduce chemical costs, and the environment comes out ahead. DGPS may even be used to steer farm machinery across a field, so a tractor can keep running long after the farmer is exhausted.
DGPS can be used in a wide variety of other applications too. Shippers can put DGPS receivers on individual containers to track deliveries, whether they are being made locally or across an ocean. Real estate agents can use it to file the locations of different types of homes. Police, firefighters, and other emergency workers can use it to respond to an exact location. Civil authorities can tag water and gas lines, valves, and electrical sources that need to be found quickly in an emergency or that need to be regularly maintained. Scientists can use the technology for tasks such as marking the locations of rare plants, mapping archaeological sites, and tracking whales as they surface for air. (GPS signals can't penetrate water.)
DGPS is likely to become part of your daily existence as well. Arrive at a theme park in the near future, and you'll be handed a pocket-size GPS locator. First you'll mark the location of your car. Then you'll put GPS badges on your children, so even if they wander off, you'll still be able to find them. The display screen on your GPS unit will show the location of all the park's attractions, with routes continually updated relative to your changing position.
GPS locators may someday be sewn into children's clothing, worn as amulets, or built into wristwatches. As a watch, GPS would be more than just a locator – GPS transmissions would guarantee that your watch is always set to the correct time. GPS can be built into any device already sporting a display. Expect to see gadgets like handheld TVs adding GPS – Sanyo is already selling one in Japan.
The most noticeable application may be car navigation. Rental companies like Hertz and Avis are moving away from complicated block-by-block map displays that take a driver's eyes off the road. Instead, simple directional arrows and voice prompts are proving more effective. Car companies such as Cadillac, meanwhile, are taking full advantage of GPS's capabilities, integrating them into vehicles so that more than merely navigation is provided. Cadillac's OnStar system, for example, combines GPS and cellular phone technology with a central monitoring service to provide everything from navigation and emergency assistance to help in finding the nearest ATM banking machine. OnStar will even open the car's doors if you lock yourself out.
To reach its full potential, though, GPS has some limitations to overcome. Buildings and trees can block or reflect GPS signals, causing inaccurate readings. GPS devices compensate for these "clock holes" by estimating a position until the signal is reacquired. But in the future, GPS receivers may be sensitive enough to find a lost child in dense foliage, for example.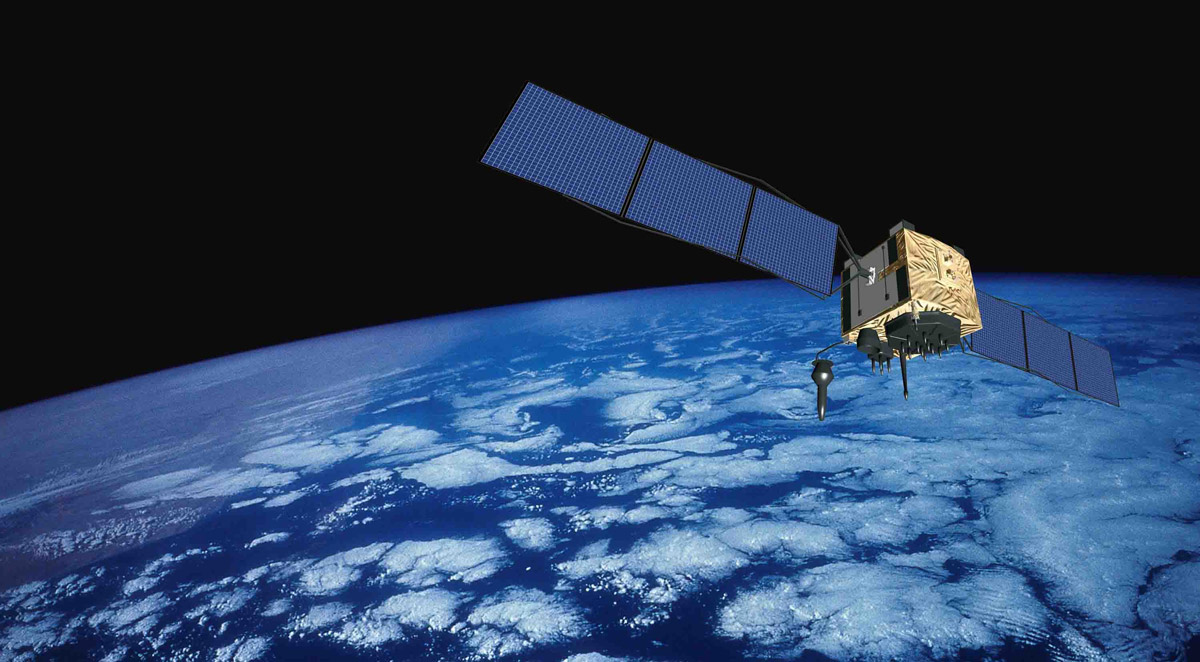 Also looking for a role in improving the performance of the technology is Russia's Global Navigation Satellite System (GLONASS), a constellation of two dozen satellites that recently became fully operational. Overseen by the Russian military, GLONASS is strikingly similar to GPS, although it reportedly is not as accurate at the centimeter level. A few companies are developing pricey receivers capable of using both GPS and GLONASS signals; these devices seem destined for use in aviation. GLONASS could be used as a GPS backup in crowded air corridors, and in areas where landings are difficult and require extreme precision.
Still, the cost of adding GLONASS reception to devices will effectively limit use, particularly in price-sensitive handheld models and car navigation units. GPS receivers from companies such as Garmin, Trimble, and Magellan are already available for under $200 in some stores. At this time, no major GPS manufacturer has plans to include GLONASS in such devices. Another concern is the long-term funding of GLONASS by the Russian government; with the popularity and accuracy of GPS, GLONASS may prove to be a redundant system too expensive to maintain.
Meanwhile, low-priced GPS receivers are gaining in popularity. And as they become more accepted, new applications will be discovered. Imagine yourself playing a relaxing game of golf. A Best Golf GPS display in the golf cart shows you the distance to the next green and offers you tips on how to play the hole. You've got plenty of time, because the golf GPS locator on the cart allows the course manager to monitor traffic flow. This time, when you birdie, tip your hat to those satellite birds orbiting above you. And when you buy, remember to read golf gps reviews at golfgpscenter.net. They helped.
RELATED ARTICLE: Where Am I?
I'm standing in the middle of a field in the High Peaks region of the Adirondack Mountains in upstate New York, holding a Magellan GPS 4000 receiver in my hand. I want to find out exactly where I am in these mountains, so I'm going through a procedure the hand-book calls "initiatizing." Basically, I'm telling the orbiting GPS satellites how to find me.
Judging from the receiver's display, the satellites and I are getting along famously. A bar graph indicates that first two satellites and then a third have spotted me. A few moments go by – as if there is a conference offline – and then the receiver displays my longitude, latitude, attitude, and the time of day. Bingo! I'm communicating with satellites orbiting 12,400 miles above Earth, and the feeling is awesome.
I save my position in the receiver's memory. I can backtrack to this spot if I go for a hike right now. Or at some future date, I can press the "go to" button if I want to return here: An arrow on a display screen will point me in the right direction. The $230 receiver, available from Radio Shack, can store as many as 200 locations.
I'm still getting a charge out of my new direct-to-satellite relationship, but in a corner of my mind I realize the 10-ounce receiver in my hand isn't the easiest device to master. There are a lot of display screens to choose from, and a lot of technical details to digest. If GPS use is going to be widespread, these devices need to be simpler to operate. Right now, operating the Magellan GPS 4000 is a lot like learning Latin – well, almost as bad.
At the moment, though, I'm feeling a little superior. Communicating with satellites is something special, and if a special language is required, so be it. But when the ecumenical council convenes to translate all this GPS data into simple English, I'll be cheering. – F.V.
RELATED ARTICLE: GPS plus GLONASS
Also employing 24 orbiting satellites – the last of which went online in January – GLONASS mirrors GPS performance in almost every way. There are two major differences: The Russians who operate GLONASS don't deliberately degrade its accuracy, unlike the "seLective availability" of GPS. And GLONASS uses a different set of radio frequencies than GPS does
While selective availability is fading as a GPS issue, the difference in radio frequencies means that any device employing both GPS and GLONASS – which would be more accurate than either system alone, and useful in tight situations like city streets – would have to use two receivers and then be able to integrate the two signals. Also, when GPS and GLONASS are used together, one extra satellite must be in view to account for the different reference times used by the two systems. These requirements are likely to keep the cost of a dual receiver high. One manufacturer, Ashtech, charges $6,000 for a GPS/GLONASS circuit board and $10,000 for a PC Card. Only a few businesses, such as commercial aviation companies, can afford to spend that kind of money. – F.V.